All you need in the kitchen
The Sartor 1956 'Aria' kitchen is a highly functional furnishing solution designed to have everything within reach. Thanks to the column system, the 'Aria' kitchen offers the possibility of having integrated appliances and accessories even in the island, allowing for maximum efficiency and practicality in everyday use.
Therefore, the kitchen becomes a design object focused on its functionality: with 'Aria', we wanted to create an ergonomic workstation with ample storage space where everything is within reach, simple and intuitive, which allows for cooking and sharing preparation phases with guests and family. The aesthetic of the 'Aria' kitchen is meticulously cared for in every detail. The strategically positioned columns give perspective to the central island, giving greater importance to this central element of the kitchen. The finishes and colors of the columns integrate perfectly with the modern and minimalist design of the kitchen, creating a harmonious and welcoming environment.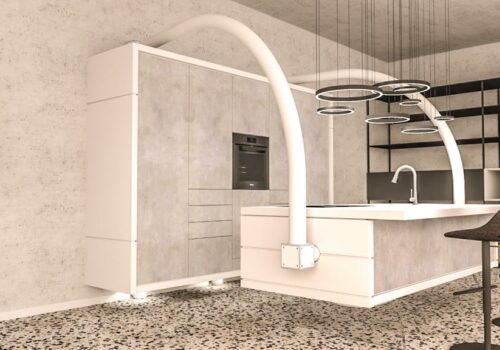 The empty space created under the island and the columns allows for greater cleanliness of the environment, facilitating cleaning operations and allowing, for example, with underfloor heating systems, their correct and complete operation over the entire surface.
Thanks to artisanal production, each 'Aria' kitchen is a unique piece, customizable and moldable according to the specific needs of the customer. The artisanal care of the details and the choice of high-quality materials guarantee the longevity and durability of the kitchen, making it a safe and reliable investment choice for any furnishing project, capable of creating added value for the property.